We are looking for sales associates who are "for the birds."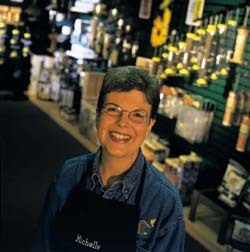 Wild Birds Unlimited® is the first and largest franchise system of retailing stores catering to the backyard nature enthusiast throughout North America. "We Bring People and Nature Together" is our mission and the very heart of our retail concept. From the day we opened the door of our first Wild Birds Unlimited store in 1981, our goal was to provide quality products, service, expertise and a pleasant shopping experience. You too could work at a Wild Birds Unlimited store and help customers bring nature into their own backyard and lives!
The difference between what we offer and what other retailers offer goes far beyond what we sell. It's who we are. Wild Birds Unlimited Sales Associates give our stores a competitive advantage that cannot be surpassed. Enthusiasm, professionalism, informed advice and superior customer service combine to help you in your role as a Sales Associate who can make a difference. Come join our team!
(To open the file, you must have Adobe Reader installed. Click here to download Adobe Reader.)
The support and training that we provide to our Sales Associates will enable you to function confidently in a retail environment. We offer a competitive wage in a pleasant working environment.
Work Environment:
Commitment To The Hobby Of Birdfeeding
Appreciation Of Nature
Interact With Great Customers
Positive, Professional Work Environment
High Standards Of Business Ethics
Wild Birds Unlimited Brand Products Contribute To The Store's Success
Training:
Complete Backyard Birdfeeding Training
Complete Retail Training
Sales Training
Employee Handbook
On-Going Training
Training Provided To Do The Job Well
Benefits:
Competitive Wage
Employee Discount
Flexible Hours
Recognition And Appreciation
Complete an application and bring it into our store for consideration.