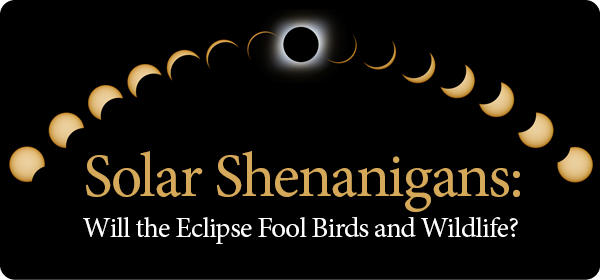 As the excitement builds towards the solar eclipse on August 21st, we are fielding lots of questions about what impact this spectacular event will have on birds and other wildlife.
There are numerous anecdotal accounts and observations that appear to show that many species of birds and other wildlife do react in different ways to the eclipse. These reactions can occur as the eclipse progresses and enters totality, as well as when the sun re-emerges.
Here are some of the reactions by birds and wildlife that have been reported to occur during previous total eclipses:
Birds
Confused Crooners - Songbirds have been noted to decrease their singing as an eclipse progresses, often to a point of total silence during the maximum darkness of totality. Speculations is that the darkening sky triggers the birds' night-time behaviors.
Out of Sync Singers - Observations show that some birds may also be confused by the re-emergence of the sun and a "dawn chorus" of bird song might be heard just as it would be during a morning sunrise.
Day or Night? - Numerous bird species have been reported to return to their night-time roosting locations as the total eclipse progresses. Starlings have been noted to return in large flocks to their roosts and display agitated behavior until the light returns to normal.
Night or Day? - Nocturnal birds such as owls, whip-poor-wills and nighthawks have been reported to either become active, take flight or call during total eclipses.
Fowl Rowel - Domestic fowl and pigeons have been observed to quickly return to their roosts or coops as the eclipse darkens the sky.
Savvy Shorebirds - Anecdotal observations seem to imply that in general, shorebirds seem to display very limited reactions to total solar eclipses.
Other Wildlife